Excursion to Erfurt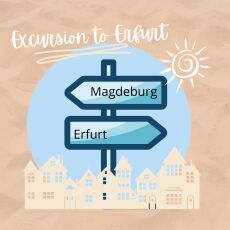 25.06.2022 -
Erfurt is a medieval city in the center of Germany. It provides a huge variety of culture and has an impact on german cultural heritage. Our trip will take place on 25th June 2022 from around 8am until 8pm. We will get a tour around the historic city center and have some time to explore the city on our own.
There is a 1€ fee you have to pay for the excursion itself and a 5€ deposit, you will get back after participating in the event. For transportation in the train you only need your student ID.
That sounds good to you and you'd like to join? Just register via our "Welcome to OVGU" app or send an email including your full name, matriculation number, address and home country to ikus@ovgu.de. The number of participants is limited to 45 and the registration is conditional. The registration is only fully completed when you've paid the fee and deposit at the IKT – the appointments to do so will be announced to you via email.
We are looking forward to seeing you!